The Balcony View:
Katrina Gurl makes her debut release with a sleepless tale of how lovers meet the unexpected unveiling of true satisfaction, passion and ultimate desire. This story will take you on a journey of how it all began.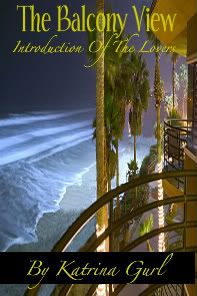 Noreen and Trent:
Two high powered business workaholics happen to meet during a much needed hiatus. Noreen dreams an unexpected fantasy after brushing off the man she may come to love.
Sharonadah and Langston:
Two attorneys friends carry on office battles that leads to them catching a case of their own for each other. Who will win this round?
Skylar and Brandon:
Skylar has a fantasy to fulfill, she takes Brandon on a road trip in hunt of the perfect antique chair to fulfill Brandon's wildest dream.
Frenchie and Tyler:
Frenchie Langston, wife of high powered attorney Terrell Langston, world renowned life coach and marriage counselor is having trouble in her own marriage. Frenchie is having no answers as to how to fix them no time soon. All her text book training seems to work for everyone, yet her own marriage is in shambles. Will Tyler make a move in her duress to admit his love for her?
"IN STORES SOON"